Why is PAYBOOKCLUB a potential Unicorn?
Paybookclub is a futuristic, cloud based, AI driven content creation and monetizing platform built on a social network on mobiles. Paybookclub aims to be the Content Marketplace of the World by 2020 by providing cloud based infrastructure and services for networking, publishing and sharing content. It will include a user friendly content display, value enhancement, sales, payment and tracking services for members and corporations. Unlike other Social Network applications, paybookclub will not open in any standard Internet Browser. One needs to download/Install the paybookclub APP on a device with a SIM.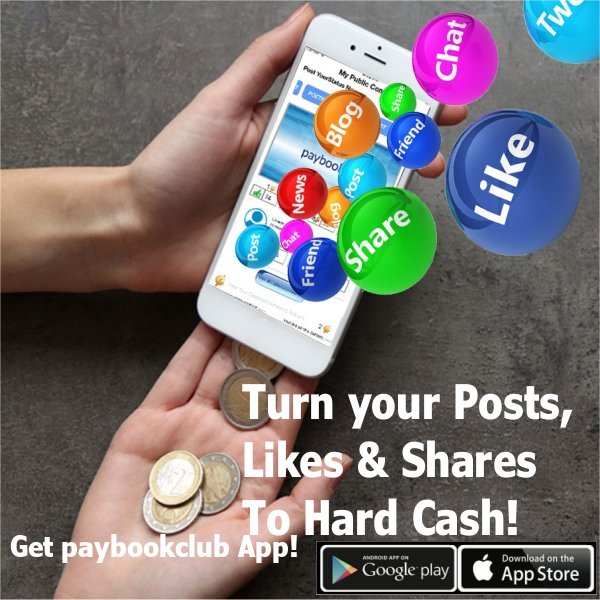 However the unique feature differentiating Paybookclub is that members get paid for their content and for the likes, shares and coments they make on content posted by other members. Members will also get a monthly loyalty reward based on the time they spend on paybookclub.
As start ups, the social media giants could not predict how fast or big they will grow. Today, it is possible to test out an idea on social media itself. Paybookclub's core idea of rewarding its members in cash by sharing the revenue has been approved by 30 % facebookers during our tests. More than 5000 users downloaded the App in a single day after a Press meet.
The paybookclub platform is built on the Amazon Web Services using strong and secure APIs which allows revenue generation in a number of ways in addition to content sale and content monetising to SEO. Apart from the advertising services to business, several paid services like games, e document safe, money transfer will be offered to members. The corporate sector will be offered data, sentiment analysis and other marketing information. Media services like full length movies will form several innovative revenue channels. Strategic tie up with cell phone manufacturers and banks and payment gateways will augment the revenue much beyond the Paybookclub platform.
Revenue will also be generated through an array of advertising mechanisms like direct public posts, sponsored posts, sponsoring of viral posts. The advertising revenue will be of highest standards as advertisers will gain genuine leads who can be contacted further without requiring further consent.
Based on more than 12000 app installs even before the platform is fully launched, showing a strong interest from the public, and the growth of recent Mobile App based ventures like SNAPCHAT, we are able to build a revenue model and projections for Five Years which shows a potential UNICORN. Unlike the social media giants during early stages, today we can estimate our revenue generation and where we will be in five years from now, thanks to social media.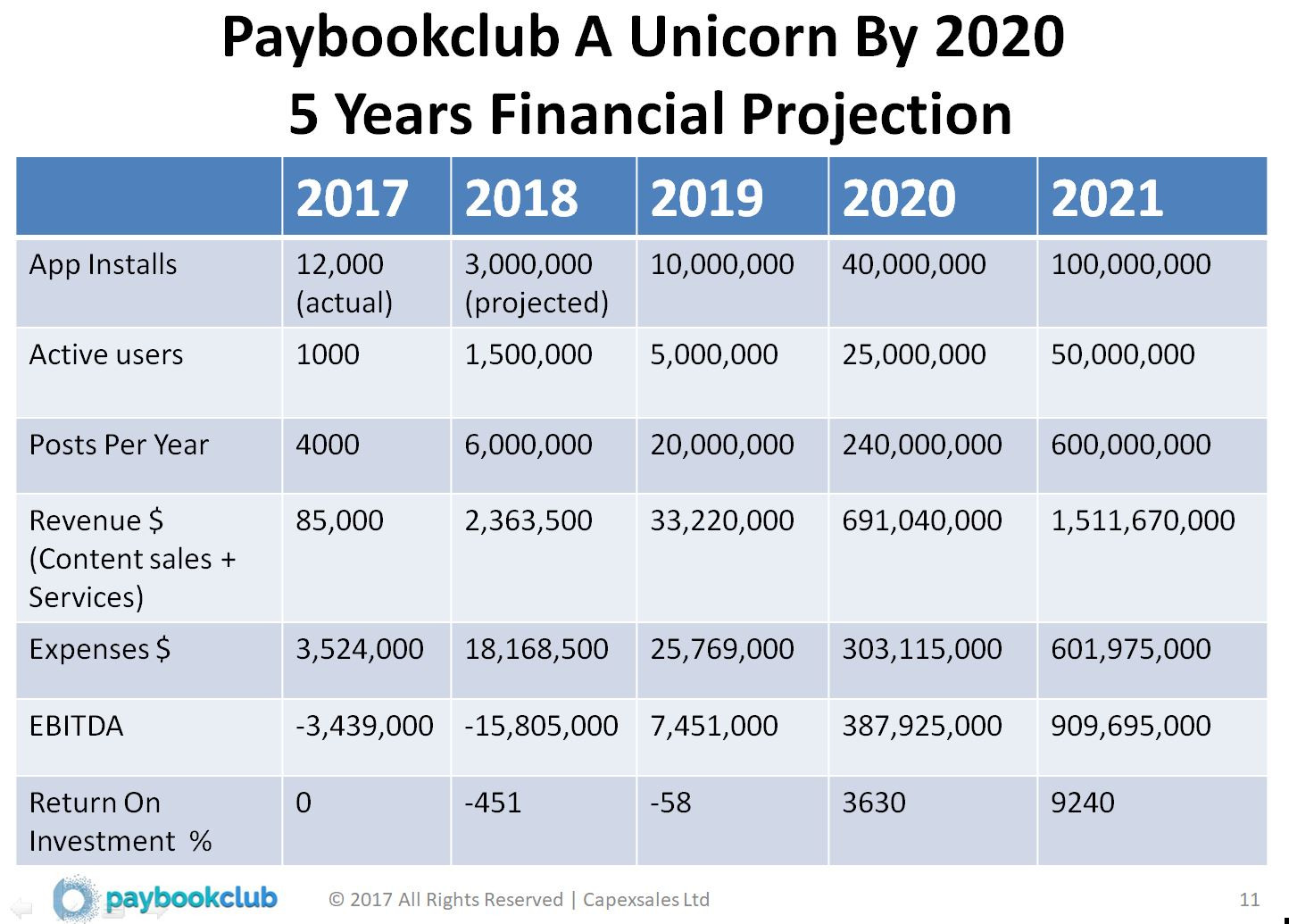 Invest USD 10,000 by SAFE(Simple Agreement For Future Equity)
We are currently raising USD 3 Million for Phase2 development, in Series A equity participation.In order to maximise public participation, we have set the MINIMUM investment for this Fund raise as low as USD 10,000. In addition, investment for equity participation will be accepted through SAFE (Simple Agreemmment for Future Equity) which allows you to invest any amount as an informal share holder, till the next fund raise when SAFE will be converted to equity.If you are an Angel/VC investor with a budget of USD 10,000 please contact us on +447721170136 for formal INVESTOR documentation or fill out the form below Now. We will get back to you ASAP.
Besides the current raise of USD 3 Million, collaboration with a variety of service provides like, cloud services, banking services and management companies who will directly invest in the venture also will be explored.
Live Demo of monetizing of Content from Paybookclub App in a Webpage. To show this dynamic content free on your web page click BLUE button to copy and paste code in your web page HTML